Gourmet La Maisonnée
100% homemade
The restaurant is open to our residents as well as non-gite guests wishing to sample
our delicious dishes. Prior booking required, open all year round.
Come and discover our menu made up of a starter (soup, savoury tart, mixed salad…),
a main course with a side dish, Pyrenean cheese and a dessert, all 100% homemade.
The menu varies depending on the season and is based on local produce usually from sustainable farming.
The bread is made from organic flour and baked in a wood-fired bread oven.
Meals are adapted to the rhythm of your holidays, balanced and nutritious to meet the energy requirements of our most sporty guests. If you let us know in advance, we can adapt our meals to suit a specific diet. Drinks are not included. Christophe has drawn up a wine menu based on wines from the South West.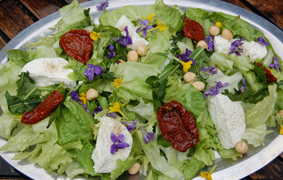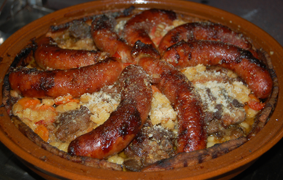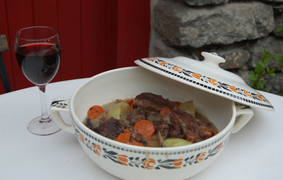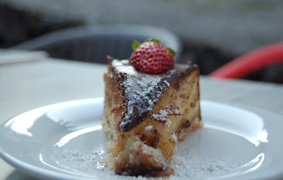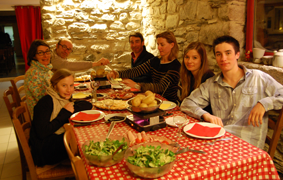 Savoury dishes:
Anne likes to serve up tasty, slow-cooked dishes such as the traditional pot au feu, cassoulet, farmhouse guinea-fowl, sautéed local veal or mutton which will revive you after an energetic day outdoors. This is the chance for you to discover or rediscover some flavours of the past: hearty soups, velouté, local cold meats, quinoa galette and other forgotten vegetables.
Sweet dishes :
Rice pudding, baked apples, blueberry tarts, molten chocolate cake, nougat ice cream…you will find it hard to resist!
Themed evenings: We take particular pleasure in organising for our guests special themed evenings such as a Pyrenean party, plancha, barbecues, or to celebrate a particular event (Christmas, New Year, Saint Valentine's)
An evening event, special weekend or a tailor-made stay:
Come and celebrate your birthdays, family get-togethers or company meals at the gite.
Fancy an afternoon tea…
After an afternoon on the slopes or the hiking trail come and enjoy the warm and friendly setting of La Maisonnée's
restaurant to savour a hot chocolate, a herbal tea, a coffee or a tea along with a selection of sweet treats such as
chocolate fondant, Basque cake, or other desserts of the day.
Gourmet La Maisonnée is also a place of exchange with a "Knowledge Sharing" workshop
offering an afternoon of cooking for adults and children. Look out for details on our news page!

The restaurant is becoming increasingly popular and it is therefore advisable to enquire
about the availability of a table